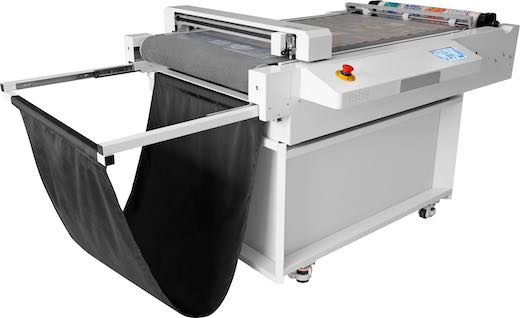 Ann Arbor, Michigan: ExpressCutPRO, a leader in digital die-cutting technology, is designed to boost profits and increase efficiency. This advanced machine allows for the precise cutting of DTF transfers (direct to film), sublimation transfers (pressure-sensitive vinyl), reflective vinyl (window film), sandblast masking (heat transfer), PET (polyester) film (gasket material), vinyl decals (paint protection film), and other films.
ExpressCutPRO has a unique conveyor belt system which allows it to cut DTF transfers, decals or prints with precision.
ExpressCutPRO Features:
All-Steel Construction: Engineered to be durable and reliable.
User-Friendly interface: Features a 7" touch screen that allows for intuitive operation.
Advanced Imaging Technology: Uses CCD (charge coupled device) digital cameras for precise crop marks and QR codes detection.
Material Handling Versatile: Supports both black and white marks on standard media (standard media is opaque) and QR codes for job identification. Both roll and sheet cutting formats are supported.
Seamless Connectivity – Offers USB, WiFi and Ethernet connectivity to provide flexible data transfer options.
Easy Workflow: Hot folder support is implemented for automatic loading after QR code scan.
Automated Material Feeding – The conveyor system allows seamless automatic material feed for rolls formats.
ExpressCutPRO redefines your business operations. Every cut is precise and efficient, while increasing your bottom-line. ExpressCutPRO will revolutionize digital die cutting.
ExpressCutPRO, from Supply55 & Saga CNC, gives you the power to control your workflow.
Additional information is available on the Supply55 website at www.supply55.com or by calling Supply55 at 734-668-0755.
ExpressCutPRO was designed, engineered, manufactured and exclusively available through Supply55, Inc., in North America.