In this article, sponsored by Kodak, Inkjet Insight's Elizabeth Gooding talks with Jim Continenza, the Executive Chairman and CEO of Kodak, about his decade with Kodak, his love of cooking, and how his approach to cooking and corporate management intersect.
Jim Continenza was recently my guest. He is the Executive Chairman and CEO at Kodak. We talked about his decade at Kodak, the love of cooking he has, and his corporate management approach. Jim shared that he gets his love of cooking from his Italian mother, "My mom was one of the best cooks in the world. Everything was done from scratch, she made her own noodles, her own sausage, everything." A great cook not only makes great food, they make it out of what is available and without a lot of waste. That focus on leveraging core capabilities to do new things is fundamental to Kodak under Continenza's leadership.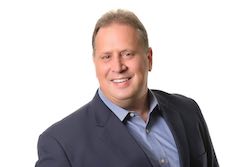 Continenza joined Kodak's Board of Directors in 2013, nearly 6 months before Chairman and CEO, Antonio Perez, announced the company's emergence from Chapter 11. It wasn't until 2019 that he was appointed Executive Chairman, following the departure of Jeff Clarke, and a further year until he became CEO. Jim has been called a "turnaround specialist" but emphasizes, "I don't take businesses down. It's not what I do. We find the path to reinvent them." 
Despite taking the reins during the pandemic, Continenza reported on Kodak's Q4/full year 2022 Earnings call that the company had achieved year-over-year revenue growth for consecutive years for the first time in decades. Under previous CEOs, revenues declined every year. From $2.1 Billion in 2014 (after restructuring), to $1.02 Billion in 2020. The revenue for the entire year 2022 rebounded to $1,2 billion. Jim Continenza has a very different style of leadership than his predecessors. He seems to be leading Kodak in a completely new direction. I'm not sure I would call it reinvention, but it is certainly a new recipe for success.
The New Recipe For Kodak
If Kodak were a restaurant, it would not be the "Yes, Chef! No, Chef!" type you see on popular cooking shows. That would be the complete opposite of Jim Continenza's management style. He expects that his team will push back. Jim works with his team closely to find out how they can best focus their resources, and come up with new offers using the ingredients that they already have. He calls this "finding the path forward" and, under his leadership, he and his team are forging it together. "We talk to each other," he said. "We don't focus on hierarchy—anyone can talk to me. We are accountable, functional, measurable and trackable. And that's how we run the business." 
It's important to note that, as one of the largest individual shareholders, Continenza has millions invested in Kodak, and he has never sold any of his shares or taken a cash bonus. He says "I've bought into Kodak. In 2019 I invested in order to demonstrate my belief in the company. I spent a solid year in and out of the company and I knew what I saw." 
He also spends a lot of time in and out of his office – mostly out. Believing that spending time with customers, and on the factory floor, is the way to understand core competencies and match them to customer needs, he goes where people are doing the development work, or using Kodak's products in the field. Continenza does more than talk.
Decide What to Invest in
Sticking to core competencies is a major theme for Kodak under Continenza's leadership, but that shouldn't be confused with a lack of innovation. Many different recipes can easily be created with just a few ingredients. The products that are created can be sold direct, via distributors or used as components in a larger recipe. Kodak achieves all these things by using advanced materials, chemicals and printing technology.
Jim says that Kodak's three main strengths are very difficult to enter. He says, "I like that because it's very difficult for others to come in and beat us." Then there is the question of what to do with those ingredients in terms of creating new menu items or sticking with the current offers that have made the Kodak brand famous. "I didn't come in thinking I knew what to do. I came in to evaluate everything and to find a path that uses what we are truly good at," he said.
Surprisingly, the iconic film segment had been pretty much neglected despite major Hollywood directors who insist that they won't shoot on anything but Kodak film. "It was running down to the ground and now it's running 4 shifts 7 by 24. We've grown that business dramatically and it's profitable." Revamping that core market, and the development environment that enables it, has also opened new business opportunities such as coating substrates for electric vehicle (EV) batteries. Both film and battery coatings are made using similar techniques. Kodak uses its coating expertise outside of the automotive sector to launch a KODALUX business that produces light-blocking curtains. Kodak is supplying both materials and coating services in this case. 
Kodak also made a strategic move in the market for its coating substrates, joining Koch Strategic Platforms and Fifth Wall Climate to provide funding for Wildcat Discovery Technologies. Wildcat is developing transformational EV "super cell" technology intended to deliver energy density improvements of 90 percent or more over current state-of-the-art EV batteries. The new battery formula does not contain either nickel nor cobalt. This increases the sustainability profile, while also reducing supply chain risk. Kodak receives a stake in Kodak as well as a contract to scale up critical substrate coating technology. BMW Group joined with a JDA in January.
Kodak is also investing in the automotive industry to produce transparent antennas for the windscreens of cars. The antennas will be produced using high resolution printing with a catalytic metal ink and electroless plating. The Kodak CTP is used to print at 12,800 dots per inch (dpi) which allows very small features to be printed. Kodak can achieve line widths as low as 6 microns on its current production lines.
Kodak is a leader in manufacturing the key raw materials used by pharmaceutical companies. The company is facilitating their expansion by setting up a clean lab for the production of reagents used in pharmaceutical testing.
What's in Kodak's Portfolio Now?
During Continenza's tenure, Kodak has made a number of major inkjet announcements, including the KODAK PROSPER ULTRA 520 press and proprietary KODACHROME Inks which were showcased at Hunkeler Innovation Days in Lucerne in February. Continenza says, "The PROSPER ULTRA 520 Press offers a groundbreaking combination of offset-like quality at speeds two to three times that of competitive presses. "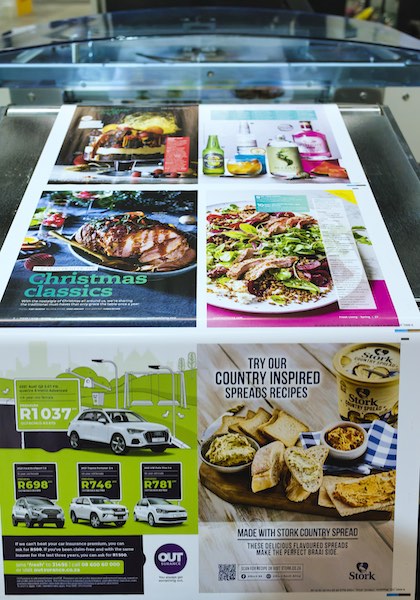 Printed output from the  KODAK PROSPER ULTRA 520 press
Kodak also launched the KODAK PROSPER 7000 Turbo which Kodak touts as the world's fastest inkjet press. The press is designed for print volumes over 200 million pages of A4 per month. It offers printing speeds up to 1,345 fpm and a throughput of 5,523 pages per minute. They serve very different segments of the market and Continenza insists that both are needed, "You don't tow your boat with a Ferrari. You have to build machines for the right applications." Kodak also introduced the KODACOLOR Film-to-Fabric Ink System which is compatible with existing direct-to-garment printers further expanding their reach in printing segments.
"Our KODACHROME Inks are the gold standard for color, providing exceptional vibrancy and color consistency thanks to Kodak's proprietary micromedia milling process," said Continenza. "This process delivers higher quality prints with brighter, purer colors, and a larger color gamut with less ink laydown."
Kodak continues to invest in offset plates technology, such as SONORA XTRA, a process-free offset plate that delivers contrast, speed, and sustainability improvements, and the KODAK Mobile CTP Control app, which enables remote, unattended monitoring of KODAK CTP Solutions. The plate industry is booming right now. However, Continenza understands that aluminum-based businesses have a fundamental issue. "We sell offset plates. We sell them a lot. We are aware that this resource is a concern. We know that energy costs are a major problem. We know smelters are shutting down." He also notes that there are other major growth applications for aluminum, like electric cars. He says, "Investing in digital inkjet technologies like the Prosper Ultra 520, which delivers offset quality, helps to mitigate the supply and cost risks for Kodak as well as its customers." 
Going forward, Kodak will prioritize investments in inkjet presses, plates/CTP, software, and advanced materials and chemicals growth over other products in their portfolio, including electrophotographic print technology. Continenza says, "You have to be willing to eat your young, but I'd rather do it in a controlled way. So, I'll use my digital instead of my plates. The PROSPER Ultra 520 is going to eat away at my plate business, and I am fine with that. We still plan to be leader in plates as long as customers need them." 
Stocking up
Due to global economic and supply chain issues, Kodak has had to "stock up" to ensure that they can meet customer demand. Continenza notes that, "It took a year, but now we have inventory. We now have safety stock, and our profits and revenues continue to grow. It's a pretty good story from where we come from." They have also invested in further accelerating growth by establishing distribution partnerships with Graphco and Production Print Solutions for their printing segment.
Kodak has also made significant investments in its facilities for the development of new products and manufacturing and servicing of existing products. "We are investing heavily in ourselves. We had to reinvent ourselves and it took cash." He emphasized that three years ago many of the items in their current portfolio didn't exist or weren't poised for growth and it will take some time for their investments to demonstrate their full value. He seems to be confident in the idea of leveraging core strengths to enter new growth markets. Kodak's strategy allowed them to quickly diversify their business into the rapidly growing automotive, energy, and pharmaceutical industries. They also expanded their reach in pharmaceuticals, using a combination raw materials, products, and services. The pilot coating facility is also being used to teach other companies how large-scale manufacturing can be done.  
Kodak's Q4 gross profit increased year-over-year in 2022. It expects its investments and diversification to start impacting the bottom line by 2023. Jim says, "I want to see our revenue continue to increase, but I want it to be smart revenue. We're at a point where we need to start generating cash." He has a lot of reasons to think that they have made good decisions with their investments, but says, "I reserve the right to get smarter. If I get smarter, if we get smarter, we change it."