Aditya Bhardwaj and Sohil Singh
Wide-format printing has experienced significant growth recently, driven by new ideas and applications. Its popularity is growing beyond the advertising industry as more industries recognize the potential of wide format printing to add unique flair and value to their projects. Customers also expect more customization from digital print options, which opens up new opportunities for print service providers (PSPs), to diversify and expand their existing portfolios. What follows is a look at today's trends in digital wide-format printing, as well as how PSPs can take advantage of their growing presence in the market.
Signage and textile printing
Many applications have found texture to be a desirable alternative to visual display. Recently, texture has emerged through textile display elements like soft signage. Now, it is moving on to more rigid substrates. Wood-grain texture is gaining more popularity in a variety of substrates, including expanded polyvinyl chloride (PVC) signboard, as it is application-friendly, durable, and visually appealing. It can be imaged with wide-format flatbed printing machines, which can produce an engraved look. The structures can then be used as signage for many years.
The architecture industry is seeing the benefits of using wide-format printing and varied textured substrates to customize interiors or exteriors in building projects—think rustic lodge interiors with custom-imaged components, such as wayfinding, or structural or signage-related common room elements.
The visual communication market has seen textile printing continue to be a major player. These specialty applications are popular because they offer quick turnaround times and soft signage. Even though print providers strive to reduce turnaround time, customers still expect more customized and personalized options.
There are new trends in the supply chain that will help direct-to-fabric printing, and especially soft signage, to be more supportive. This industry is changing the way that print buyers see point-of purchase (POP) signage. All aspects of textile-based printing—from decor to fashion—will continue to grow exponentially, as these applications create new opportunities to generate revenue for print providers and new product options
Customers
Utilizing new printing technologies
PSPs today are using newer printing technologies such as UV (direct-to-substrate) printing and expanded digital finishing capabilities. This has created more opportunities than ever before to explore short-run and prototype packaging options as new revenue streams. This presents a unique opportunity for many sign- and graphic-producing companies to deliver and offer the applications that their business-to-business customers want. There are many other printing technologies that allow for customization and shorter runs. This presents a new opportunity for PSPs that have extensive experience with tight turnarounds and short runs. It allows them to empower both established and small businesses to tackle their packaging needs on a more localized level.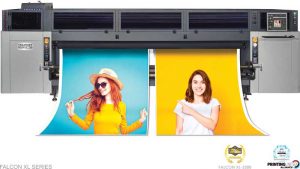 With the right finishing capabilities and wide-format equipment, printers have the potential to create promotional short-run packaging. Packaging printers cannot compete with long-run equipment and lengthy lead times in promotional short-run packaging. If printers are able to position themselves as experts in this sector, they will be able to find new opportunities with local producers and realize that this is a growing market that wide-format printers can use.
It is expected that the inks will continue to change as technology and market demand evolve. Companies have expanded beyond traditional four-colour printing to offer spot colours in everything from neon to metallics. These inks offer more colour fidelity and eye-catching splashes of colour.