Dunstable, Bedfordshire – Essential Workwear, a family-owned and operated business that has been in the Embroidered Workwear The expansion of the company's operations, which includes new warehouse space as well as cutting-edge technology for printing garments, has been announced. 
Essential Workwear's recent strategic investment in infrastructure has increased its current warehouse space by 5,000 square feet. feet through the addition of a new mezzanine floor, thereby increasing the company's capacity to cater to more customers and accept bigger orders. 
Essential Workwear upgraded its printing technology, converting to the latest DTF waterbased printer. This machine improves quality and finish on printed workwear while ensuring a faster turnaround time. The company also recently passed ISO 9001 & 14001 certifications, which demonstrate commitment to quality and customer satisfaction as well as dedication towards environmental management and sustainable practice. 
These new developments by Essential Workwear show the company's continued customer-focused approach and devotion to always providing a large selection of new offerings, such as Personalised WorkwearWe offer a wide range of printed and embroidered workwear in the highest quality, and we are an environmentally-conscious provider.
The Essential Difference in Workwear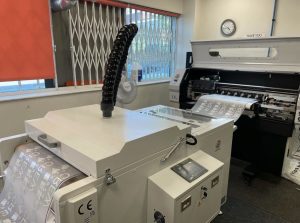 Essential Workwear designs and manufactures a wide range of branded, embroidered and printed workwear for various industries in the United Kingdom.
Essential Workwear's custom workwear ranges from t-shirts to polo shirts and jackets, and even accessories. This allows businesses to build cohesion, pride and professionalism in their employees by investing in workwear that will not only improve their overall brand perception but also boost their job satisfaction and morale. 
Essential Workwear offers a variety of services, including:
Essential Workwear uses Barudan embroidery machine to embroider the logo of the company onto different garments such as t-shirts and fleeces. 
Essential Workwear's printing services are available for a variety of items, including shirts, trousers, hi-vis, jackets, hats, and more. The company offers a variety of designs and colours, as well as the ability to print customized logos and messages.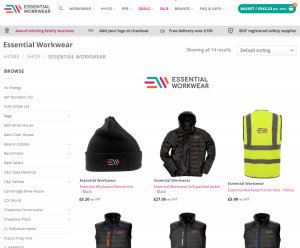 Order Portal
Only authorised users can access the portal. It is a secure, online account for each customer. Customers can order uniforms with pre-loaded logos once they are logged in.
"We know that ordering branded workwear can be a time-consuming and frustrating process," said Louis Georgiou, Operations Director of Essential Workwear. "With our order portal, we're making it easier than ever for our customers to get the workwear they need, when they need it."
The order portal has a number time-saving features, including:
Pre-loaded logos:

The logo can be pre-loaded on the uniforms, so that customers don't have to upload their logo every time they place an order.

Secure Online Account:

The order portal is an online account with a password that is only accessible by authorised customers.

Simple to use interface

The order portal can be used by non-technical people.

24/7 access:

The order portal is available to customers 24/7 so that they can place orders for workwear at any time.

Pay invoices

The order portal offers several payment options including invoice. Businesses can pay in the most convenient way for them.
Essential Quick Ship Range
The Essential Workwear range covers all of the industry's most popular workwear products, from polo shirts to hi-visibility safety clothing. All products are made with high-quality material and designed to endure the daily rigors.
Essential Workwear offers many features, including a focus on quality. This makes it an excellent value for business. Prices are reasonable and quick shipping is available for urgent orders.
The Essential Workwear range Essential Workwear has just launched a new website.
Reliable Workwear
Essential Workwear is a range of clothing which has been designed to meet the challenges of unpredictable and colder weather. It keeps workers dry, warm and comfortable no matter what the conditions. 
We are committed to providing durable and superior workwear, including Workwear Jackets, demonstrates Essential Workwear's understanding of the importance of reliable workwear that ensures the productivity and safety of each and every worker. 
The jackets that Essential Workwear offers include:
Warmth and Comfort Like No Other

 – The company knows that staying warm and agile is crucial for professionals working in demanding industries, and that's why it has specialised jackets that are engineered to regulate body temperature efficiently while providing maximum insulation against the cold. 

The Ultimate Waterproof Protection

 – Being caught in a sudden downpour can be detrimental to a worker's productivity and well-being. That's why the range of waterproof jackets at Essential Workwear comes equipped with advanced waterproofing technologies to shield workers from rain, snow, and other elements. The waterproof membranes in these jackets prevent water penetration, but they also allow proper ventilation. This ensures the wearer stays dry from inside out.
Choose from a wide range of styles and colours

 – Essential Workwear understands that every organisation has its unique identity and branding requirements. The company has a wide range of colours and styles of bomber jackets, work coats, and other garments to suit different preferences and branding requirements. 
More Information
Visit the website to learn more about Essential Workwear's expansion with its new warehouse and cutting-edge print technology. https://essentialworkwear.com/.
Source: https://thenewsfront.com/essential-workwear-expands-operations-with-new-warehouse-space-cutting-edge-printing-technology–iso-certification/
The Essential Workwear
We provide a wide range of workwear and PPE embroidered, printed and brand to various companies across the country.
Contact Essential Workwear
Postal Unit 1 Aragon Park Foster Avenue

Dunstable

Bedfordshire LU5 5GN

United Kingdom
0330 202 1001
Website: https://essentialworkwear.com/