We use affiliate links. You may earn a commission if you make a purchase through one of the affiliate links. Learn more.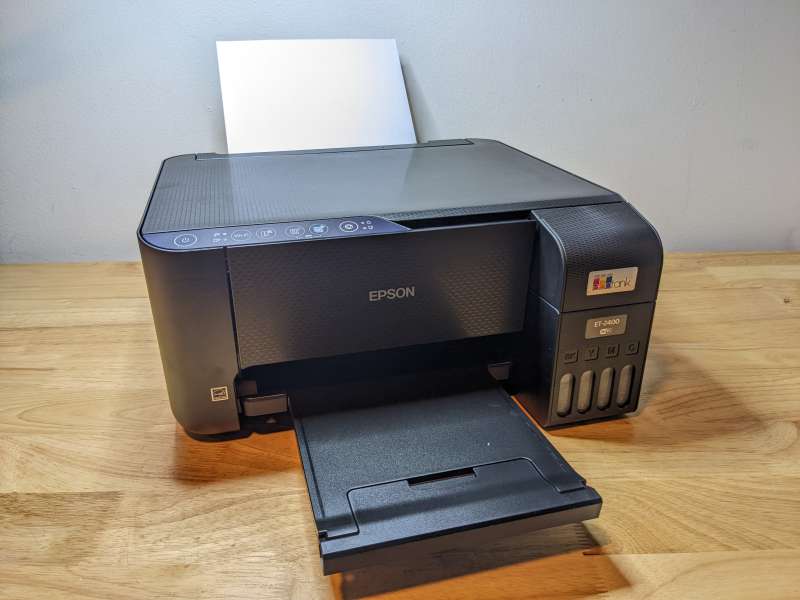 REVIEW – A good printer is a standard part of most home offices. Having worked as a print professional for years though, I've never owned my own printer. Why spend money on a printer at home when I've always had access to cutting-edge printers at work? Well, now that I work in technology I've finally found myself in need of a printer at home.
The Epson EcoTank ET-2400 wireless color supertank printer was an excellent choice as my first at-home printer. The ET-2400, which retails for $179.99, is a great deal with a lot of features. It also comes with Supertank refillable ink cartridges that make it even more affordable. The print quality is definitely not at the level of the printers I'm used to, but for documents and home photos, it performs quite well.
What is it?
Epson EcoTank ET-2400, a cartridge-free multi-function CMYK printer, features high-capacity ink tanks that can be refilled and a built in flatbed scanner. The ET-2400 features Epson's proprietary Micro Piezo print head that does not require heat for the ink ejection process. The Piezo elements flex forward and backwards to fire ink from the printer head. This print head is more precise and produces sharper prints, which can lead to high-quality prints. Illustrations and photos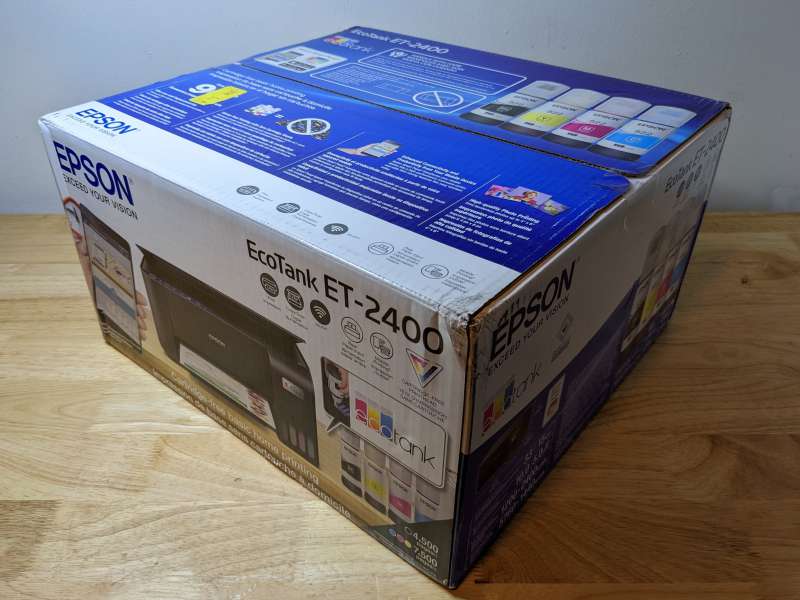 The ET-2400 arrives in a box large enough to hold all the specs and pictures. Protect the printer during transport with basic foam inserts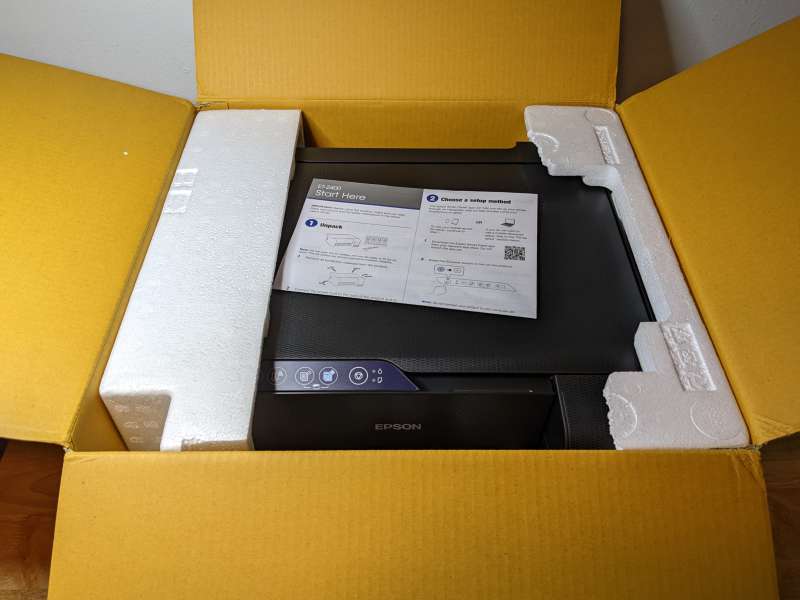 What's in the box?
Epson EcoTank ET-2400 Wireless Colour Supertank Printer
Ink bottles: Cyan Magenta Yellow and Black
The power cord
User Manual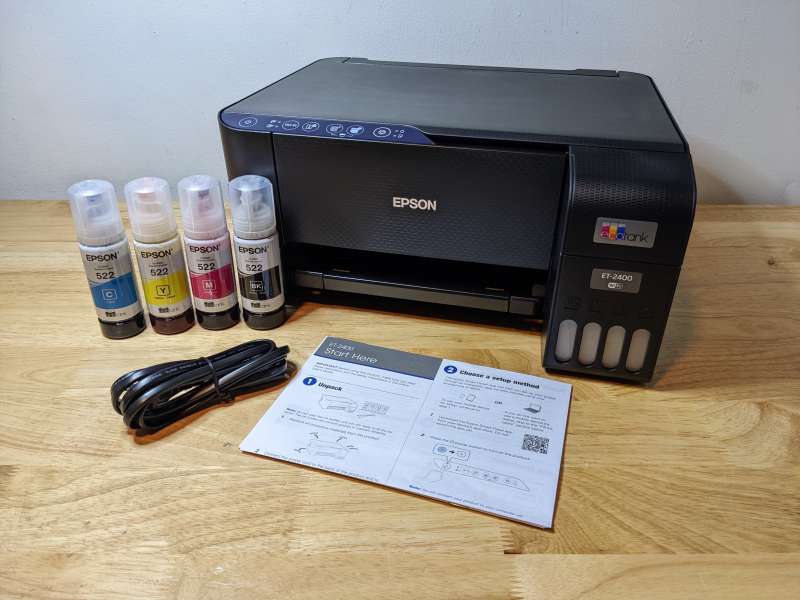 Specifications of hardware
Printing Technology: 4-color (CMYK) Micro Piezo inkjet technology

Printer Language: Epson ESC/P-R
Maximum Print Resolution 5760 x 1440 pixels
Print Speed: 10.0 ISOppm (black), and 5.0 ISOppm (color).
First Page Out Time (FPOT), 7 seconds for black, 6 seconds for color
Borderless Photo: 4″ x 6″ Print Speed 69 seconds

Mobile printing and scanning

Mobile Apps: Epson smart panel app (iOS and Android)
Epson Connect Solutions: Epson Remote Print, Epson Email Print

Copy Speed: 7.7 ISO ppm in black, 3.8 ISO.ppm in color

Maximum Copy Resolution: 300×300 dpi
Maximum number of copies: 20 pages
Maximum Copy Size: 8.5″ x 11″ (Letter, A4)

Scanner Type : Color flatbed (CIS sensor)

Maximum Resolution: 9600 pixels per inch interpolated
Maximum Hardware Resolution: 1200×2400 pixels
Scanner Bit depth: Input 48-bit colour/output 24-bit color
Maximum Scan Size: 8.5″ x 11.7″
Scan Features Epson ScanSmart. Scan to Computer. Computer Event Management.
Compatibility with Scan: TWAIN. WIA. ICA
Output Formats: PDF (Windows), jpeg (Mac), png (Mac), tiff (multi-tiff), BMP (Windows), and PICT (Mac).

Connectivity

USB 2.0 High-Speed
Wi-Fi 4 (802.11 b/g/n)11

Operating Systems
Paper handling

Input Paper Capacity: Rear Feed 100-sheets
Output Paper Capacity: 30-sheets
Maximum Paper Size: 8.5″ x 14″ (Legal)
Paper Sizes: Legal – A4, Letter, Executive – Half Letter – A6, No. 10 Envelope
Maximum Borderless Size: 4″ x 6″

Operating Temperature: 50 ° to 95 °F (10 ° to 35 °C)
Sound Level: Mono: 50 dB(A), Color: 48 dB(A)
Energy Consumption

Standalone copy printing: 12 W (ISO 24712)
Ready: Approx. Ready: Approx.
Sleep: Approx. Sleep: Approx.

Dimensions (W x D x H): 14.8″ x 22.8″ x 10.0″ (375 mm x 578 mm x 253 mm)
Weight: 8.6 lb (3.9 kg).
Software included

Epson printer driver, Epson Scan, Epson ScanSmart, Epson Photo

Get replacement ink bottles

522 Black ink bottle (65mL). Yields: 4,500 ISO pages
522 Cyan-Magenta and Yellow ink bottles (65mL). Yields: 7,500 ISO pages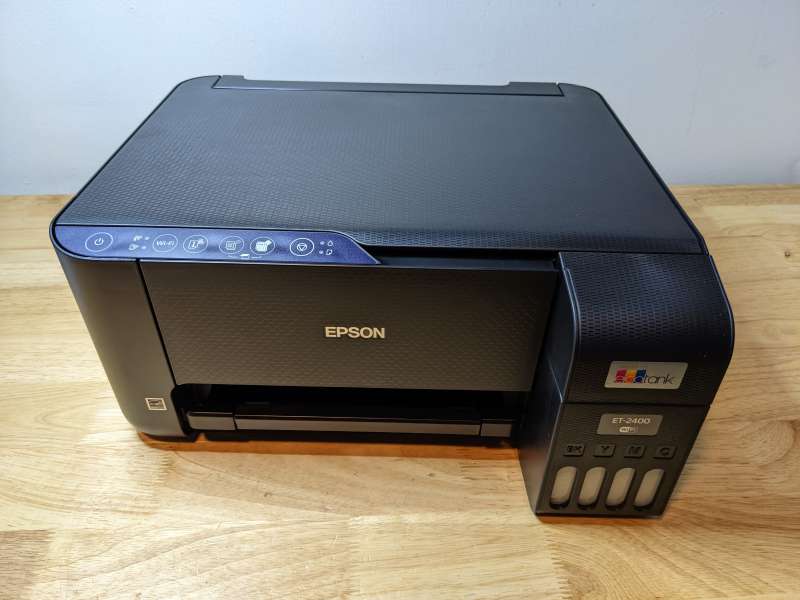 Design and features
The design of the ET-2400 isn't anything particularly groundbreaking, but I do like the black textured exterior. It's a nice change from the boring beige plastic of most printers. Six sealed membrane buttons are located on the ET-2400's front. These buttons can be used for power control, Wi-Fi mode changes, printing status, network status, black and white copies, color copies, and stopping prints. You will also find indicators lights for WiFi modes, ink levels, and paperfeed status.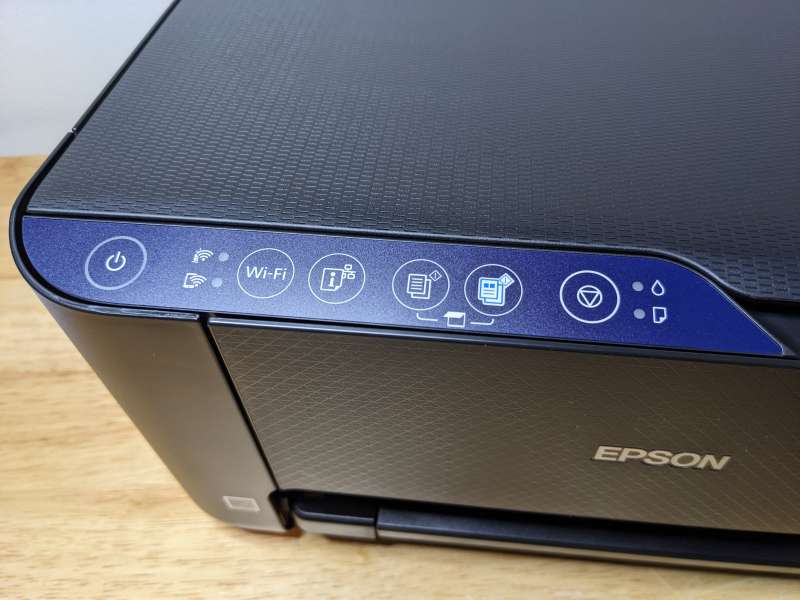 Rear paper feeder includes a retractable paper support, as well as edge guides to allow for different paper sizes.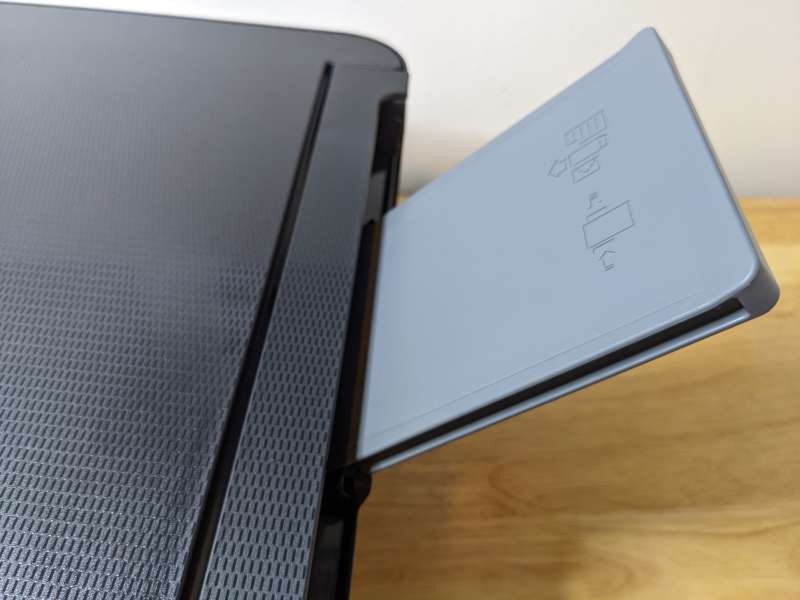 Retractable and with a flip-up stopper, the ET-2400's front output tray is also retractable.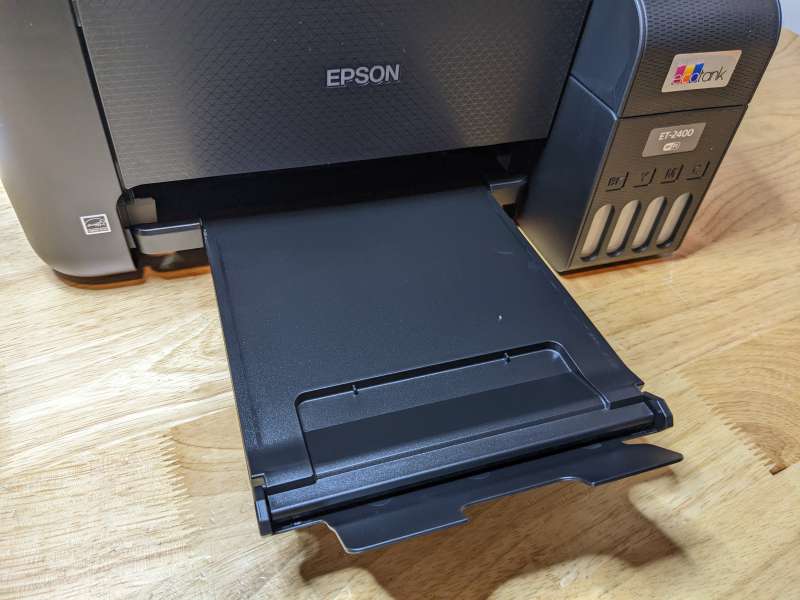 Multi-function printer, the ET-2400 includes a flatbed scanner that allows for high-resolution scanning in black and white as well as color copies.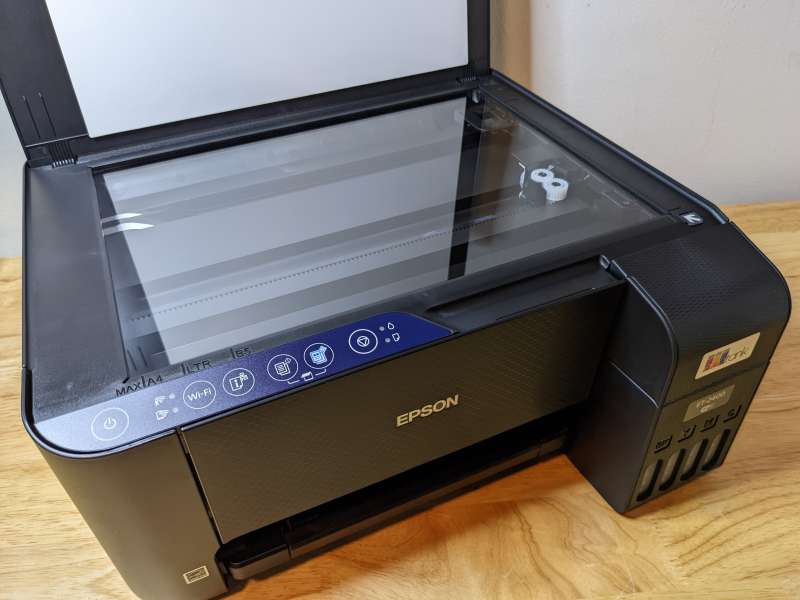 Two ports are located on the ET-2400's back left. The lower one is for power cord.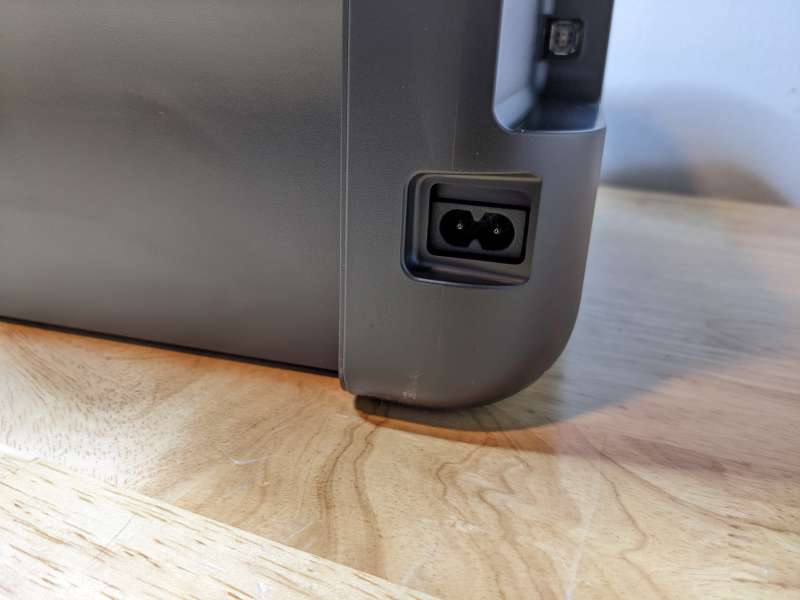 The upper port allows for a USB Cable (not included) that connects the ET-2400 with a computer.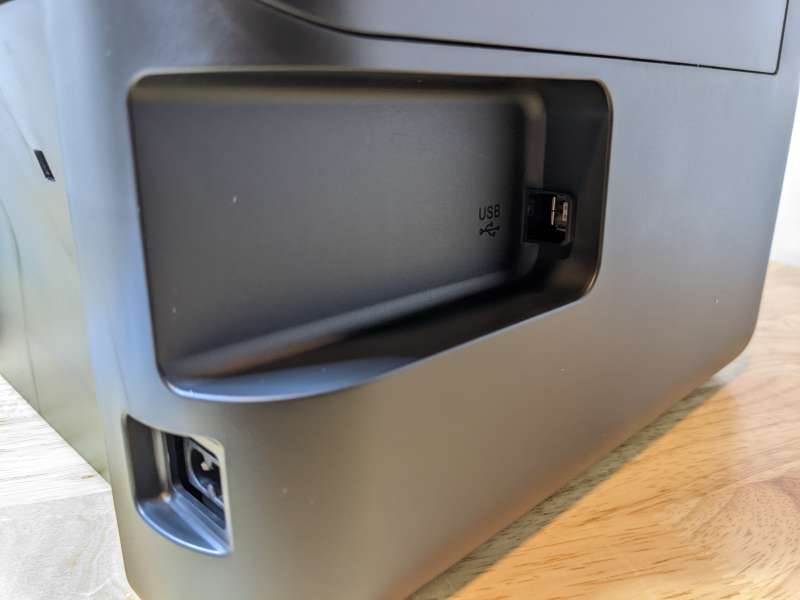 The ET-2400's most notable feature is the large Ecotank-inkwell located on the front. Although most printers in this category use ink cartridges for printing, the ET-2400 draws its ink from the large tank. There's a flip-up lid on the front of the unit that reveals the ink tank fill caps.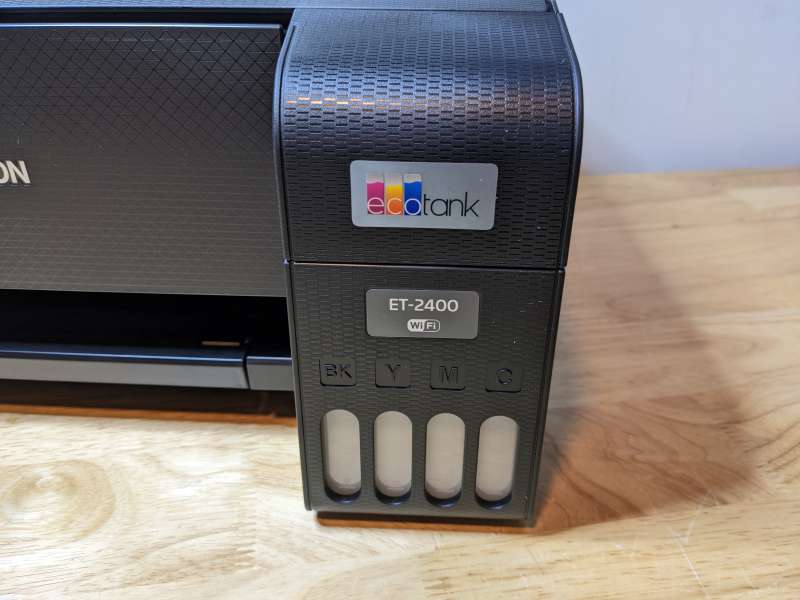 Below the lid, you will find the visual ink indicator. This is a great feature for printers that allows you to see how much ink remains without the need to open an app or print utility.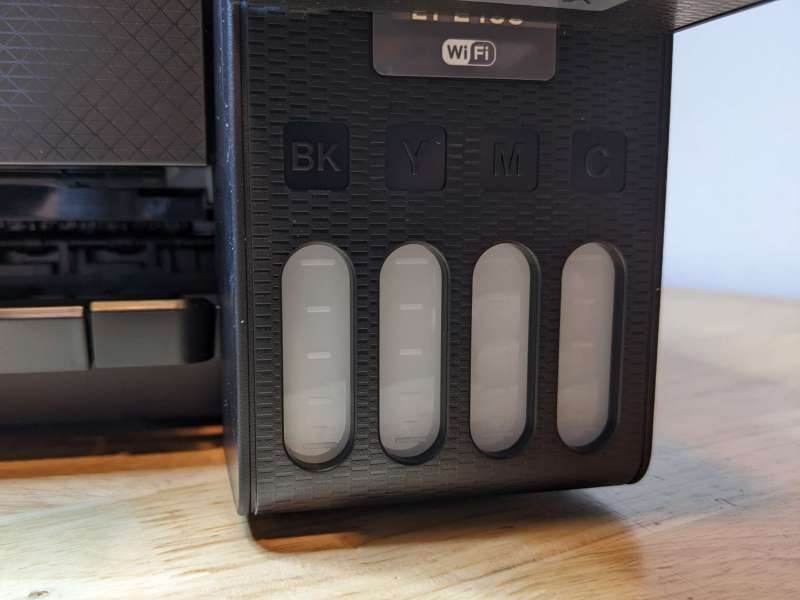 The ET-2400 has a unique ink system that requires you to fill the tank with Epson's 522 ink bottles. The printer uses four different colored inks; Cyan, Magenta, Yellow, and Black, commonly known as CMYK.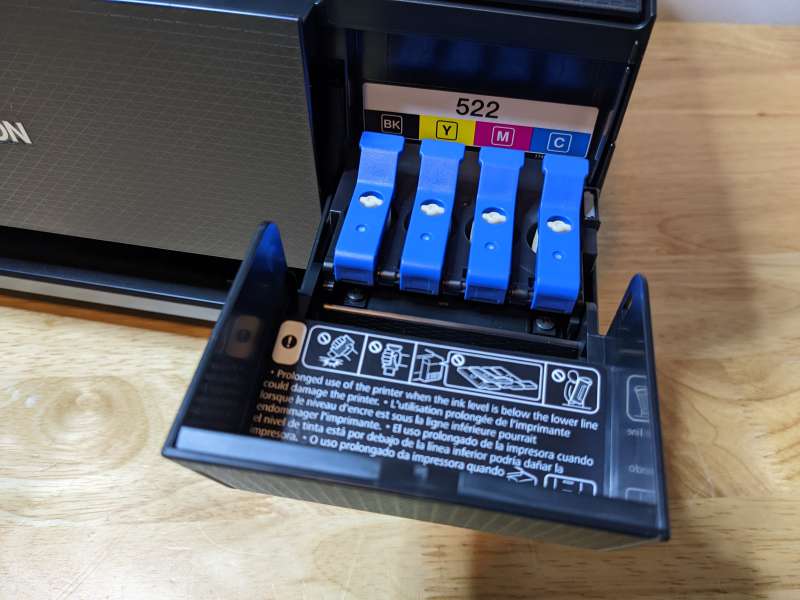 To prevent any ink leaking, the tips on the ink bottles are designed to fit into the ports of the ink tank.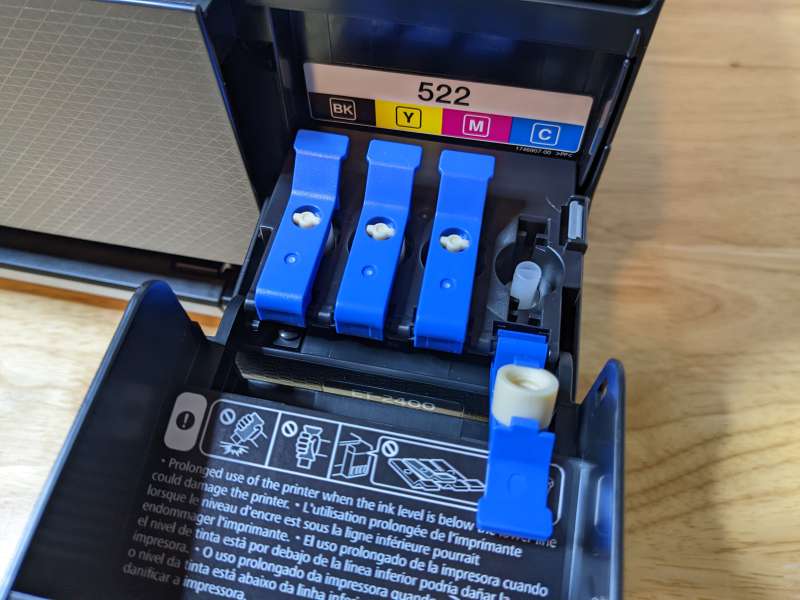 The ET-2400 ships four ink bottles. One is for each color. Due to the Ecotank's large size these bottles can be used up to two years. Epson states that each ink bottle set contains approximately 90 cartridges. The "Eco" in Ecotank comes from the selling point that by using fewer ink cartridges there aren't as many cartridges that end up in landfills. The yield of the black ink bottle is approximately 4,500 pages, while the yield of the color ink bottle is about 7,500 pages.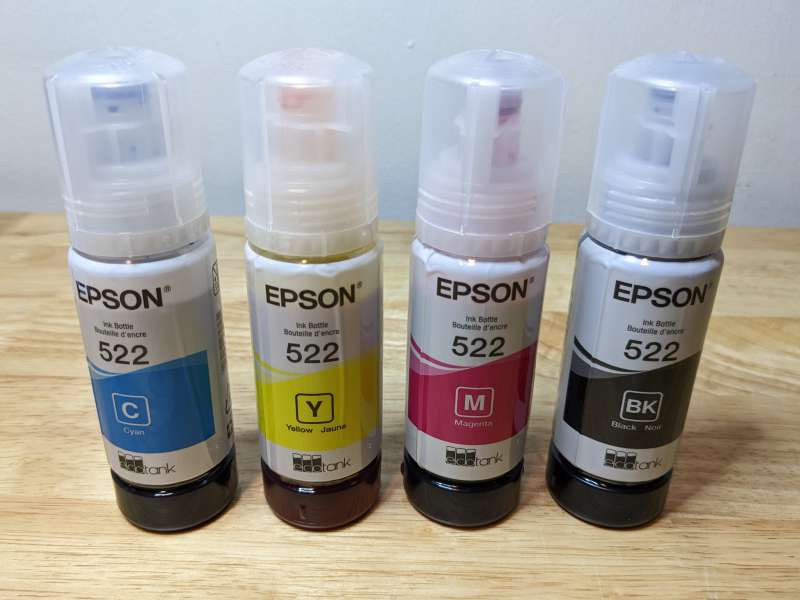 Once the ET-2400 is plugged in and the ink bottles are gathered, it's time for the initial setup.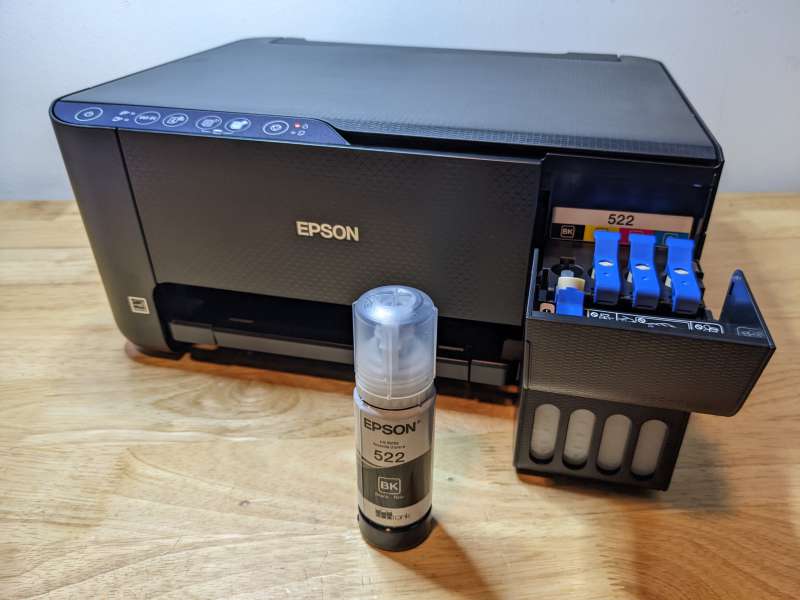 Installation
The Epson Smart Panel app makes it easy to set up the Epson ET-2400. This app will first help you locate a Wi-Fi network and check for firmware updates. It then guides you through the initial setup of ET-2400, as if you were chatting with an AI support representative.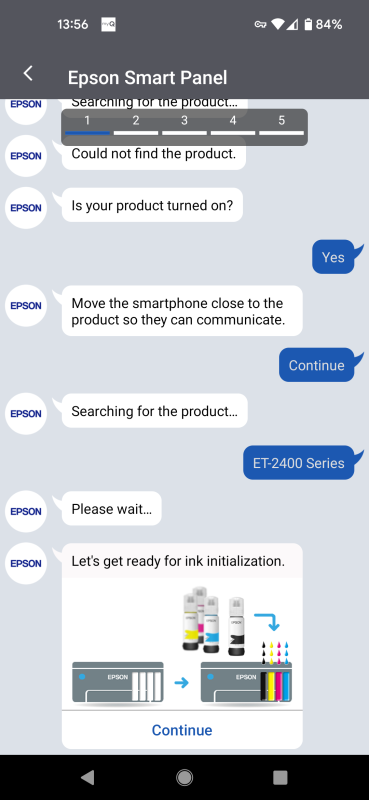 Answer the AI questions and the app will take care of the rest. It even walks you through filling the ink tanks.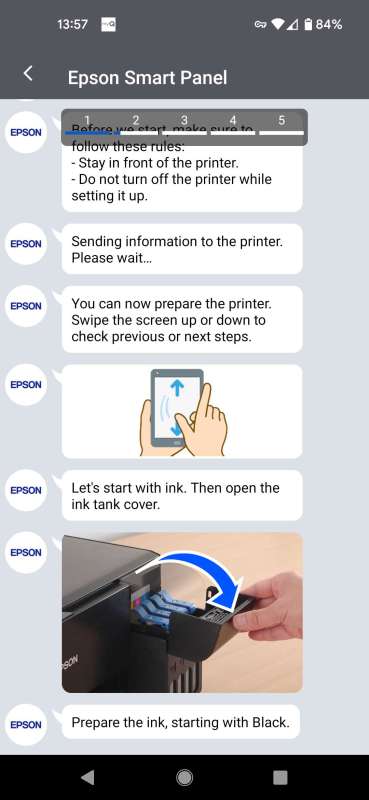 To fill an ink container, follow the app instructions. Next, you will need to take off the cap of the ink bottle.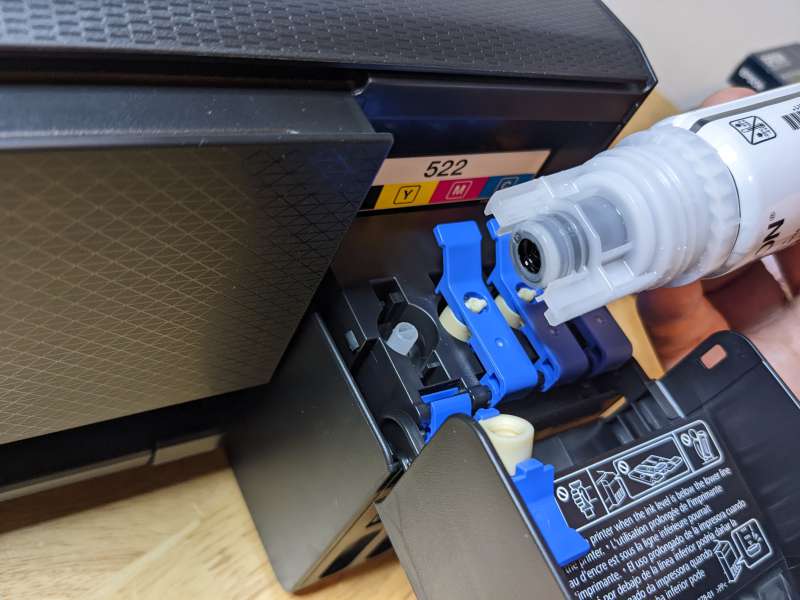 It takes between 30-60 seconds for ink bottles to empty into the tank.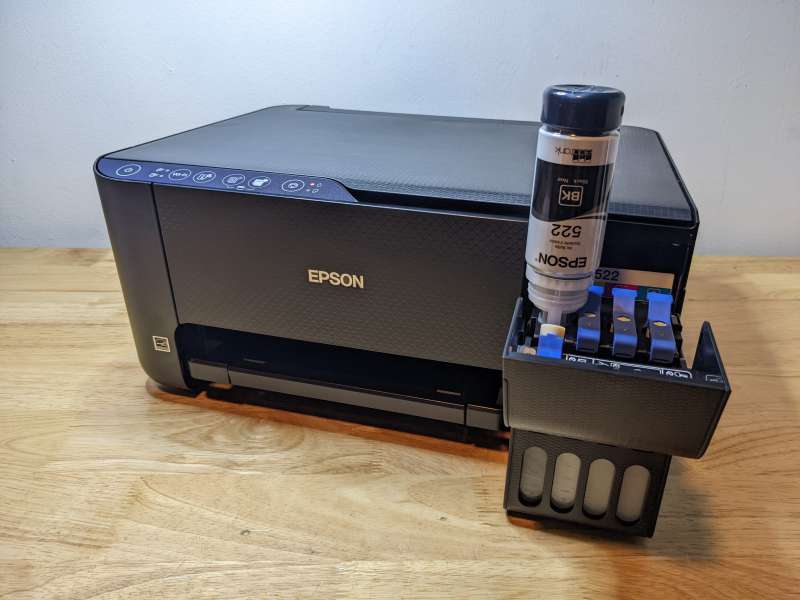 You can follow the progress of the ink fill by watching the ink level indicator for the color you're filling.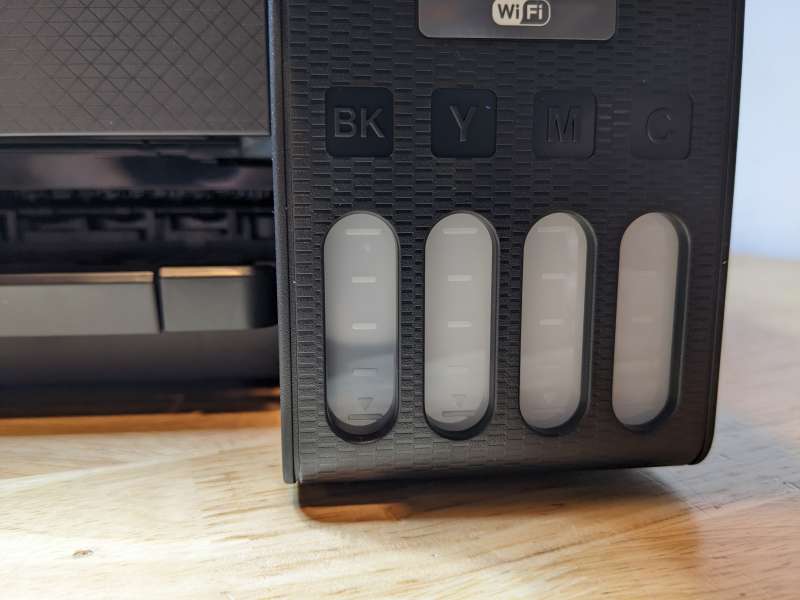 After filling the ink tanks, the app will guide you through ink initialization. This takes approximately 8-10 minutes.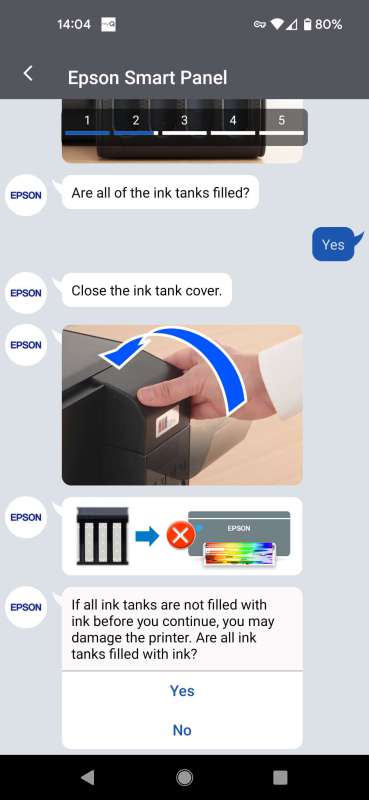 Each bottle left a bit of ink after filling the tanks. I checked each color again before I proceeded.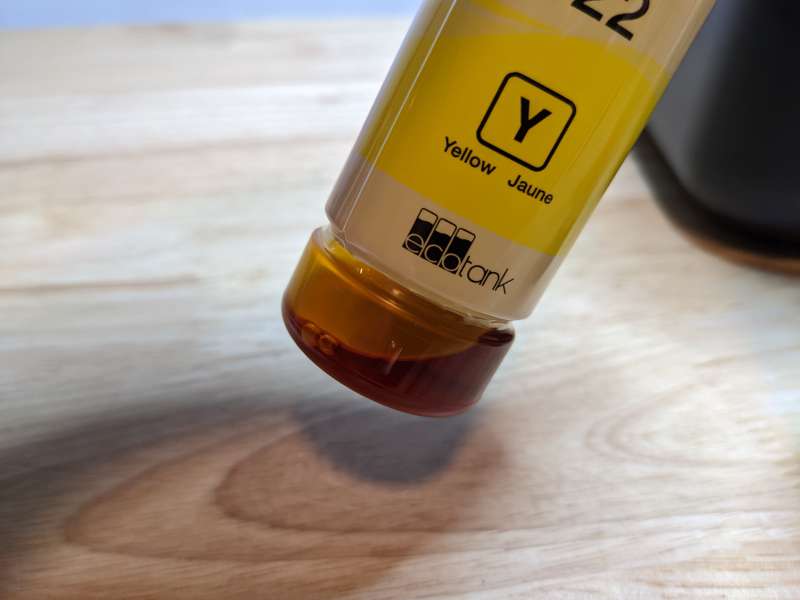 After filling up the ink tanks and letting my app do the initialization, I was ready to print.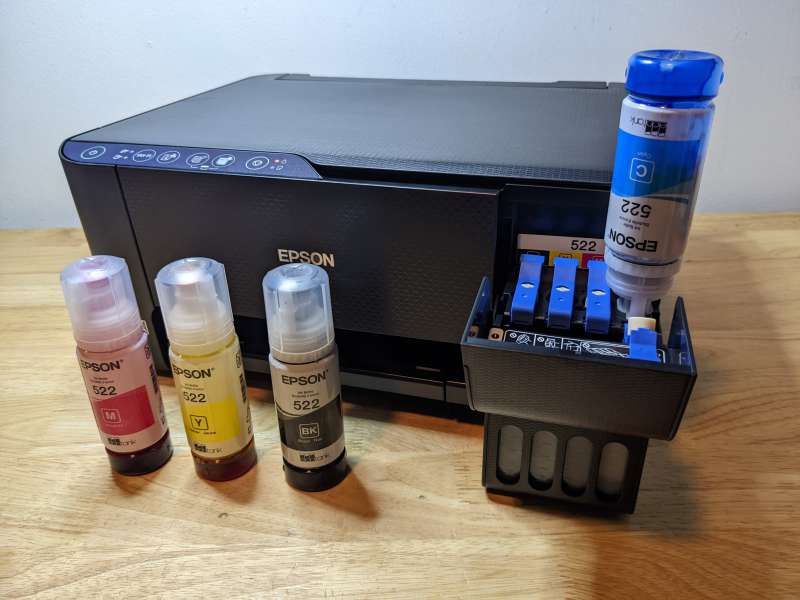 Performance
My tests showed that the ET-2400 performed well. However, I had issues with the Epson apps that the instructions wanted me to install on my PC. The Epson PC apps, which are not as useful and poorly designed as the Epson Smartphone app that helped me set up my ET-2400, are not as efficient.
The Epson Smart Panel app was easy to use. It even allowed me to link the ET-2400 to Alex, Google Home or Siri, if I wanted.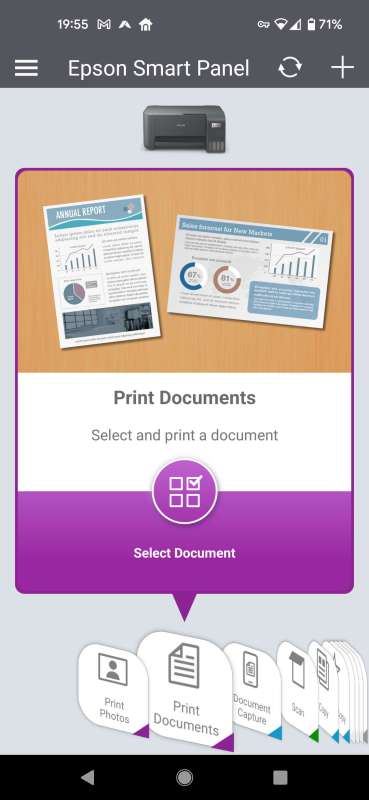 The app allowed me to print documents directly from my phone to the printer. It also allowed me capture documents and print them.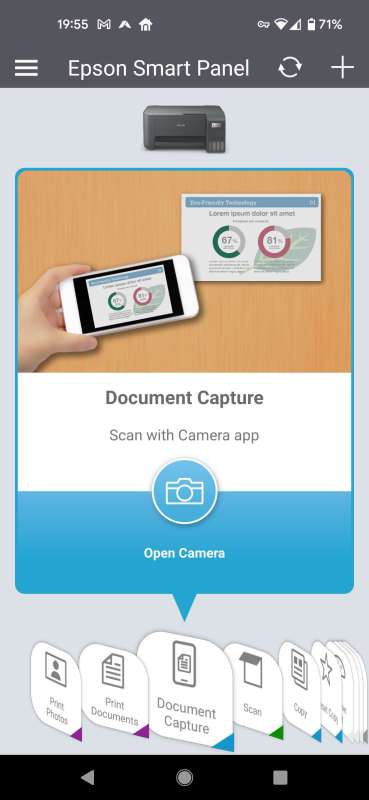 You can also monitor the status of print jobs using the app, and even change printer settings.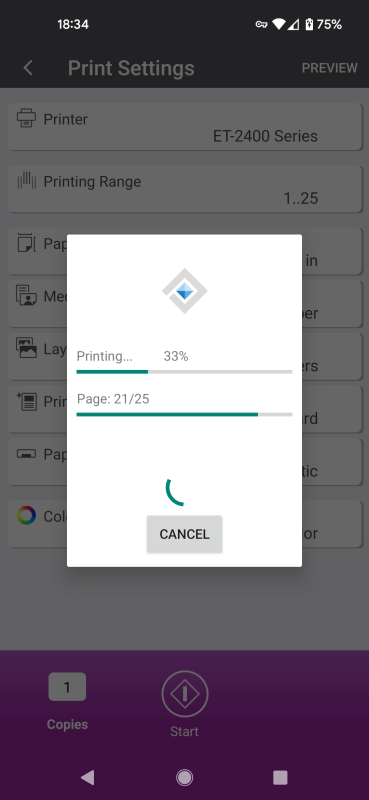 The Smart Panel app does try to get you to install Epson's Creative Print app, but like the PC apps, I found it to be little more than poorly scripted bloatware best avoided.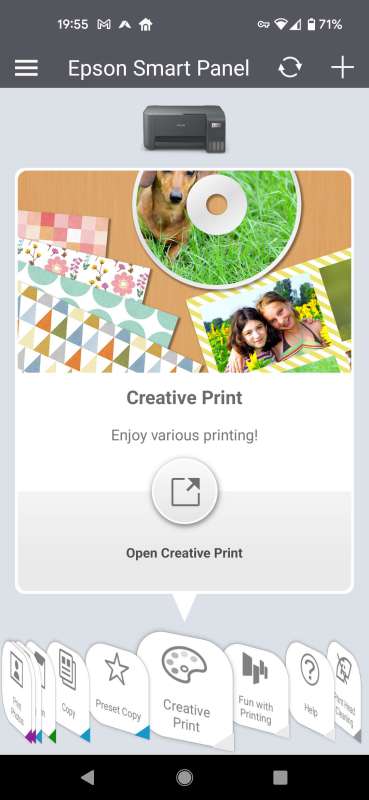 I needed extra supplies to complete the testing of ET-2400 so I purchased a few Amazon products. For testing black and white printing and making copies I used Hammermill Premium Inkjet & Laser 8.5″ x 11″ paper since they are an industry standard. For photo printing I went with Epson's own Premium Glossy Photo Paper sized 4″ x 6″ and 8.5″ x 11″.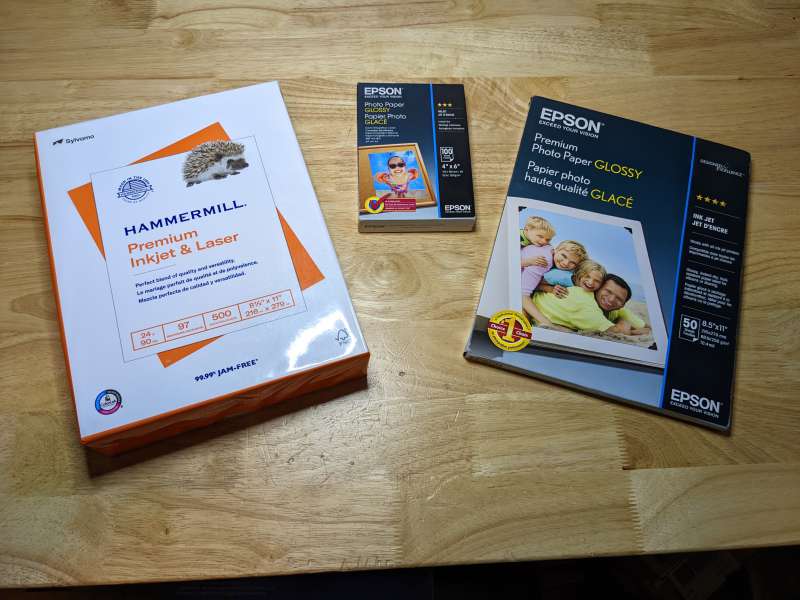 To test the ET-2400's photo printing quality, I used Addy, my dog. The borderless capability of the ET-2400 worked well on the 4″ x 6″ photo paper. The prints were vibrant in color and had sharp details.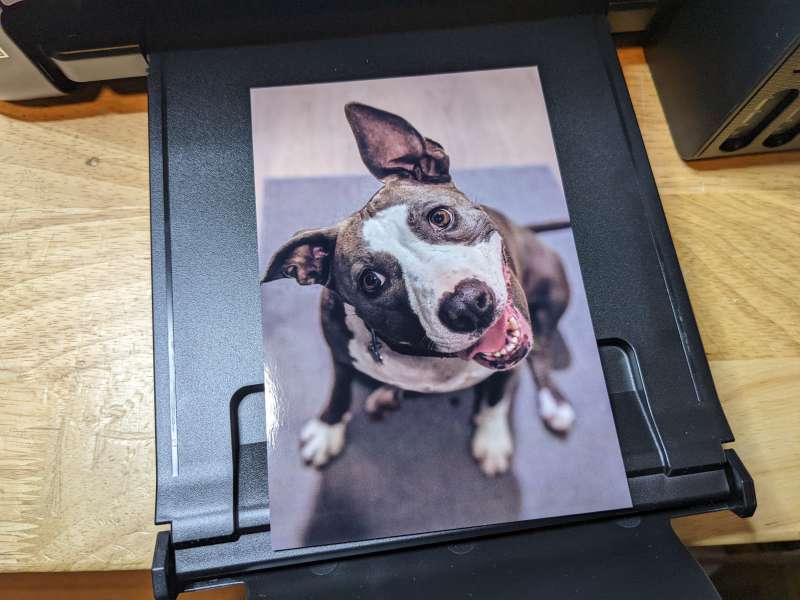 I tried a few more colors and changed the quality settings, with great results.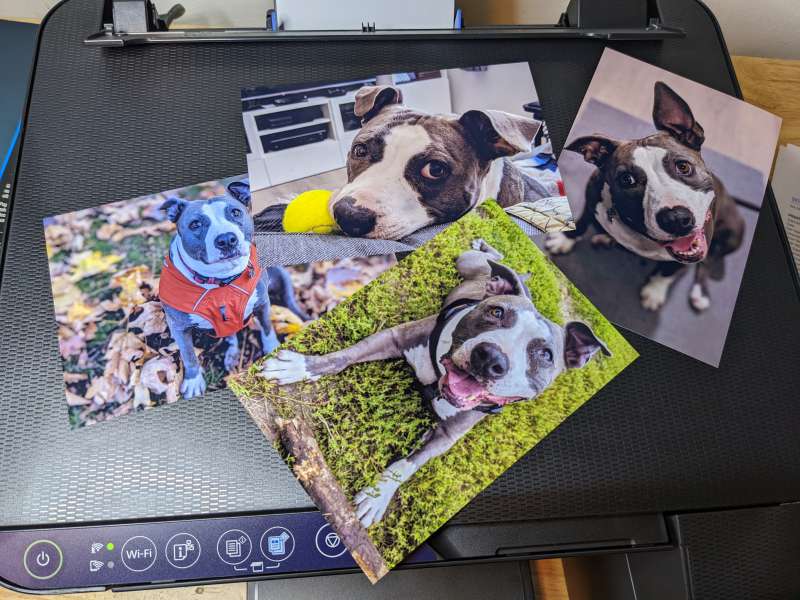 Once I loaded in some larger 8.5″ x 11″ photo paper the results were just as impressive. The print time was impressive, as well as the excellent colors and details.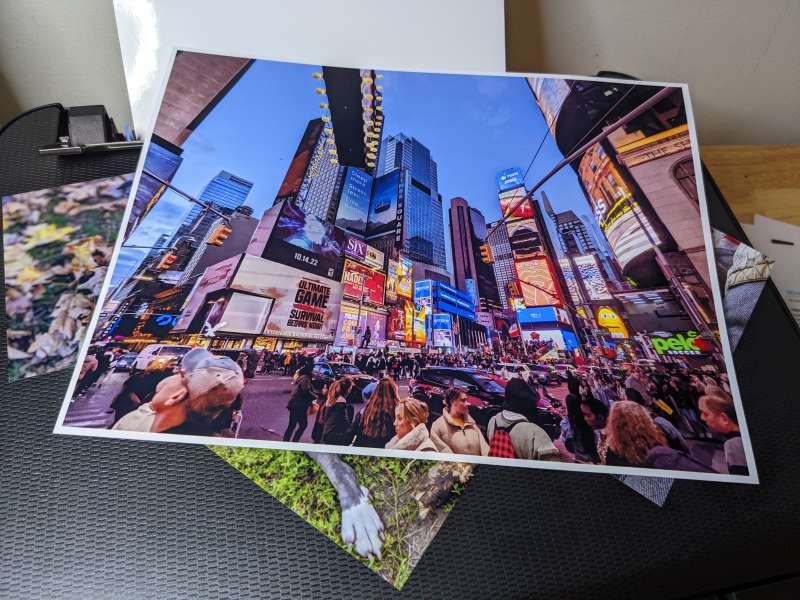 Regular black and white document printing wasn't as impressive as the photo printing though, even with more settings experimentation.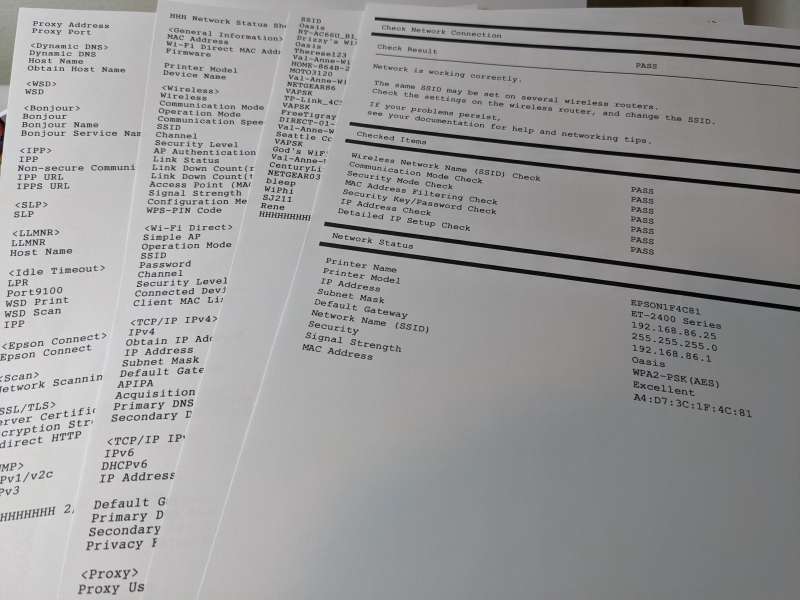 The blacks seemed a bit washed out, greyer than 100% black, and the type didn't appear as sharp as what you'd find from a laser printer, even though that isn't really a fair comparison since they are two different printing technologies.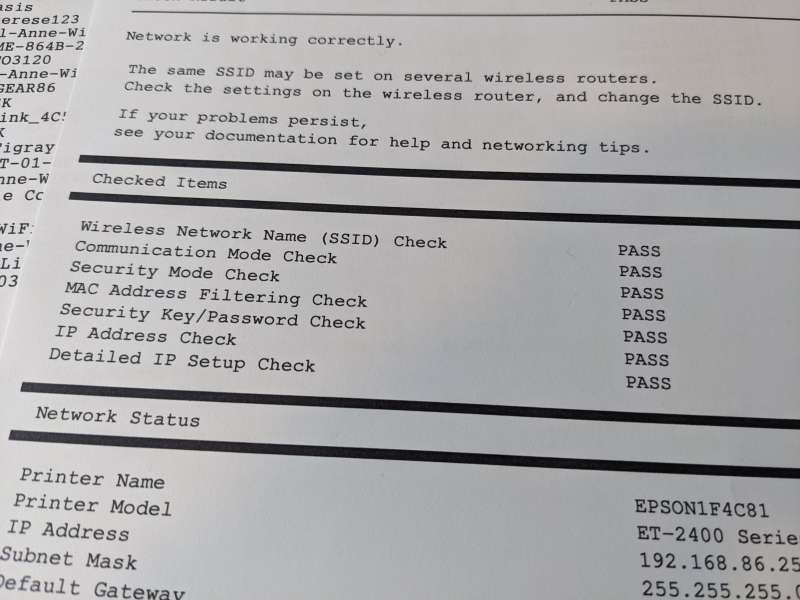 I tested the ET-2400 and then moved on to flatbed scanning, copying, and moving to testing.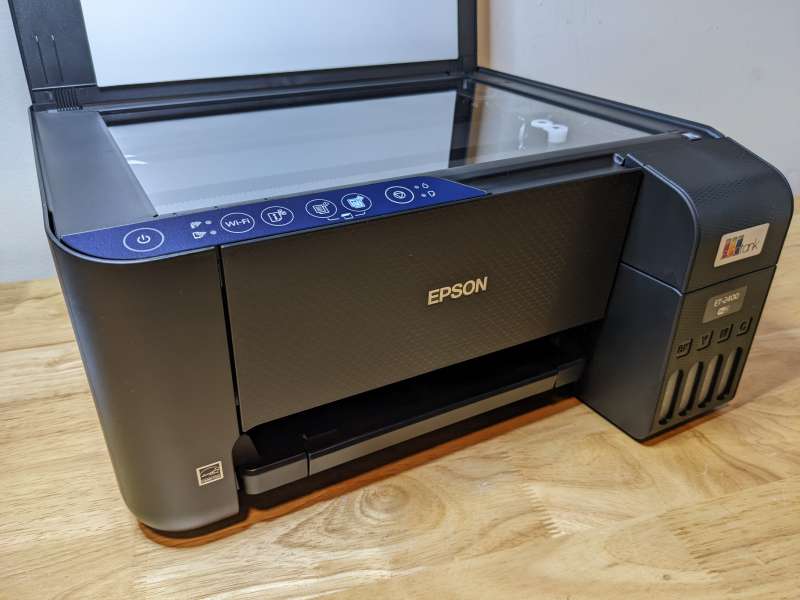 I created a standard test image for the scanner to test it. The scanner's challenge is to reproduce the tiny white spaces that appear between the lines as they become smaller and closer together. This image also tests the printer's black and white print capabilities since the resulting scan will be a reproduction of a high-resolution image printed by the ET-2400. The test image printed ok on the highest quality print settings, but it wasn't perfect with a lot of graying between the lines of the scales.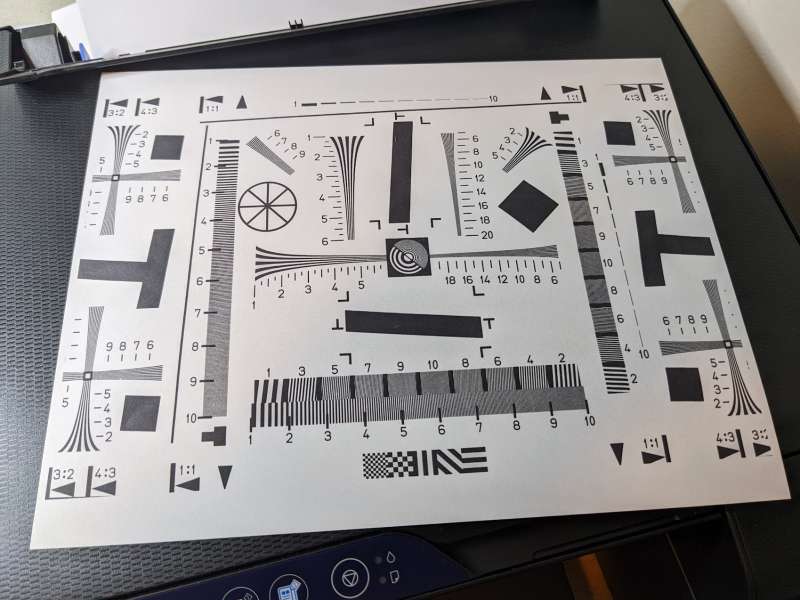 Also, the scan of the test image was not very impressive. The lines were too large to reproduce the spacing correctly. Taking into context though that this is a $179.99 printer that comes with two years' worth of ink meant more for day-to-day document printing and the occasional photo, I'd say the results were still pretty good.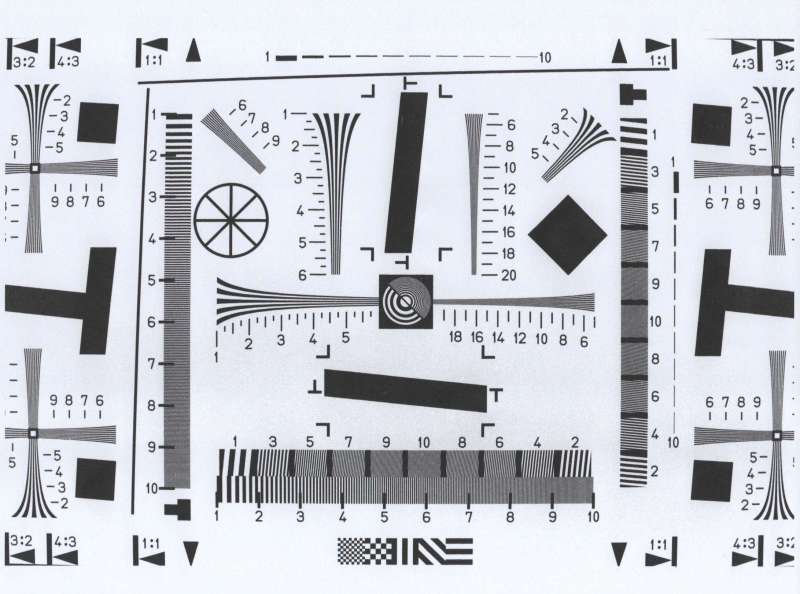 Overall, I'm really happy with the results of the ET-2400 tests and I'm looking forward to using it more. I don't have to worry about running out of ink, so I can print as many pages as I like. If I run out of ink, the Epson replacement cartridges are a better option than those costly ink cartridges.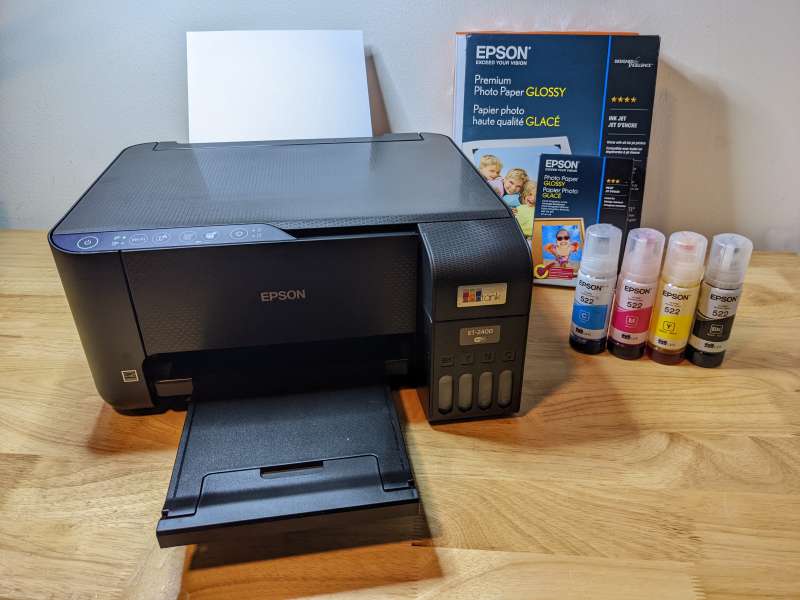 What I like
It is easy to set up
High ink durability and value
Impressive photo print quality
What I'd change
Quality of regular paper and scan quality could be higher
Quality is not as high as you would like.
Epson bloatware must be installed during setup
Final thoughts
The Epson EcoTank ET-2400 color printer is versatile, reliable, and very affordable. For my first home printer, I'm really happy with the ET-2400, especially because I know I won't be spending tons of money on ink cartridges. Being a bit of a print snob, I wasn't thrilled with the scan and paper print quality, but the photo prints were impressive. The low price point of $179.99 coupled with the unique money/environment-saving ink technology makes it easy to recommend the Epson ET-2400 for home offices or family printers.
Price: $179.99
Where to BuyTarget and Walmart
SourceEpson provided the sample for this product.