The 3D Printing Industry Awards, 2022 Voting for the shortlists is now possible. Vote now to determine who will win the 2022 3DPI Awards. Cast your vote today to let us know your opinion.
Dutch 3D printing company Bond3D, and Invibio Biomaterial Solutions, a medical implant developer, have developed a method of additive manufacturing spinal cages to aid patient recovery. 
Together, the firms have managed to develop 'next-generation' spinal cages, which not only feature all the healing benefits of their predecessors, but can be configured with the porosity needed to stimulate new bone formation. Unveiled at Formnext, the firms' cages are also said to have sufficient biocompatibility to gain FDA approval, and they're currently going through the regulatory steps to gain this. 
Bond3D – PEEK 3D printing
Bond3D, based in Enschede, specializes in the production of functional parts from high-performance plastics, which are certified for critical applications. The firm's business revolves around a patented, pressure-controlled extrusion process, in which filament can be layered into prints with final-part densities of over 99%.
This technology allows Bond3D access to the aerospace, automotive, energy and medical markets due to its compatibility. 
To help it further develop its unique approach to extrusion, Bond3D was awarded funding by Victrex in 2019, which was said to be valued at 'millions of euros.' Since then, the company has continued to build on its technology, unveiling a void-free PEEK 3D printing process, as well as announcing the build of eight production-ready systems, last year. 
'Fourth-generation' spinal implants
Given that it's sterilizable, highly biocompatible and features an impressive strength-to-weight ratio, PEEK has proven a popular material in the medical industry. Bond3D claims that the polymer has been used in the creation of implants for more than 15 million patients. This includes those who are suffering from orthopedic, spine or cardiovascular problems.
Bond3D identified a potential market in this area by developing spinal interbody fusion device, which allows for better CT/MRI imaging without artifacts. The company states that it is still challenging to produce implants with a modulus similar or natural bone. They also need porous regions to promote bone ingrowth, as well as the rigidity necessary to keep cages from slipping in. 
Bond3D teamed up with Invibio Biomaterial in order to develop 3D printing capabilities for highly porous spinal cages. Bond3D says its technology allows for the creation of 'fourth-gen' implants that "combine the advantages of all previous generations," and feature the enhanced biomechanical and biocompatibility properties needed to aid bone regrowth. 
The companies are currently working together to submit an FDA submission for one these devices with a US-based spine implant developer. This submission is being supported by a master file, which Bond3D says will help any subsequent medical OEMs' efforts to bring their designs to market in the future.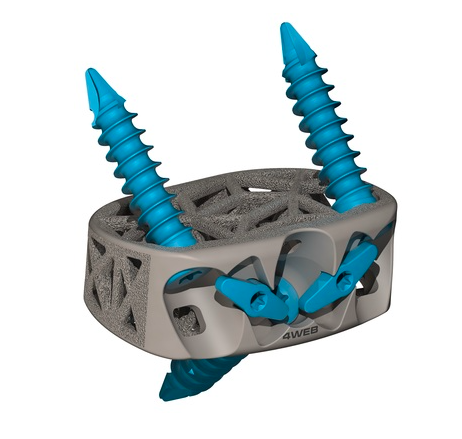 While 3D printing has yet to gain traction in the wider medical market for custom-made spinal implants, the technology is already a popular choice. 4WEB Medical markets a variety of these devices, including the Stand-Alone Anterior Truss System that can be used in spine disorders treatments. 
As long ago as 2018, Johnson & Johnson acquired EIT, in a move that also saw the US multinational gain a strong foothold in the spinal implant 3D printing space. At the time, the deal was said to have strengthened the interbody implant portfolio of Johnson & Johnson's orthopedics branch DePuy Synthes, which included titanium-integrated PEEK devices designed for minimally-invasive surgeries. 
Our complete collection is available. Formnext news round-up for the latest from 3D printing's largest trade show.
To stay up to date with the latest 3D printing news, don't forget to subscribe to the 3D Printing Industry newsletter Follow us on Twitter You can also like our page Facebook.
While you're here, why not subscribe to our Youtube channel? You will find discussion, debriefs, and replays from webinars.
Are you interested in a job within the additive manufacturing sector? Visit 3D Printing Jobs Here are some examples of the roles available in this industry.
The featured image is a CT image of a spine cage printed by Bond3D. Image via Bond3D.